My "New" 1986 Vortex Turbo
Posted:
Mon Mar 14, 2016 5:41 am
Hi everyone,
Great forum here, lots of awesome info! It's great to see such a dedicated group of XT enthusiasts!
Last weekend I made a slightly irresponsible decision to buy a 1986 Subaru Vortex XT Turbo. My missus and I drove out to have a look at it, and then I proceeded to buy it and drive it 2.5 hours home on the highway with my missus following behind in our Outback in case anything went seriously wrong!
Mechanically it's in really good condition, it's a NZ new delivered RHD Turbo, with a 5 speed, coil suspension, FWD and digidash. It only has 135,000kms (84k miles) on it!
Now the bad news: at some point in its past it was rear ended, and had the center light assembly replaced with an unlit Subaru badge assembly from another car. There is also a fair bit of dodgy welding and bad panel beating under the rear right of the car. At some point I'm going to have to do some major surgery and cut out the rusty, poorly welded panels, and replace it with new metal, but for now some zinc spray will keep it on the road!
Here are a couple of pics of it with our Outback, built exactly 20 years apart! Both are daily drivers now.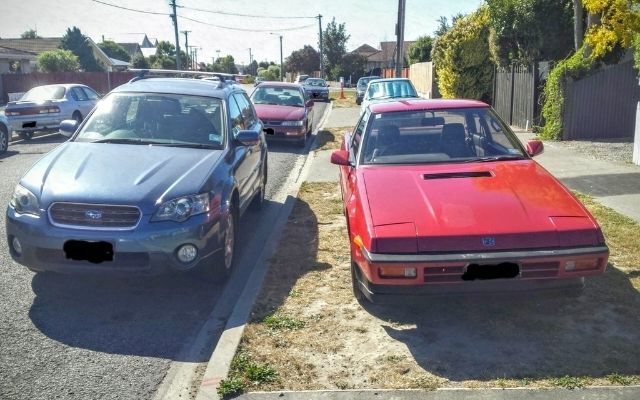 It also has a couple of niggly electrical issues, which I'm hoping somebody here can help me with:
1) The FM Radio only outputs sound from the right hand speakers, yet when I put a cassette in the tape deck, sound only comes out the left side. Both sides are equally loud, but only work one at a time.
2) The rear window defogger doesn't work. The dash light comes on, I can hear the relay click, but my back window stays foggy. I can't seem to find a break in continuity with my multimeter, so I'm not sure where the issue is...
3) The brake light indicator light is always on when I brake. I assume this is due to the accident damage. I have tried connecting bulbs to the harness where the center lights used to be, and the indicator lamp still comes on. I presume the sensor has been damaged in some way. It's not really that big of an issue, but I'd like to eventually find a fix!
I'm hoping with some TLC that this car will live on for a long time to come! I've always wanted an XT ever since I first saw one as a kid, and now I finally have one!
I hope with time I can contribute to this great community, I look forward to getting to know everyone here!
Cheers,
Alex